Is it really the start of another football season? Wasn't it just a few days ago that baseball ended with Minooka finishing 3rd at state? Wasn't it just a few weeks ago that the Seneca Boys won the basketball title? Wasn't it just a month or so ago that the Morris Redskins finally got past JCA and went on to a perfect season?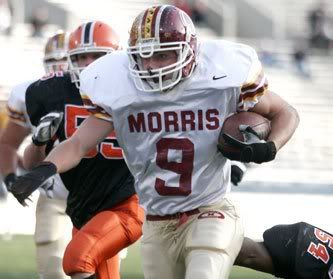 Sure seems that way. So, here we are at the start of another high school football season, and the Morris Redskins are primed for another run at post-season glory. I couldn't help but go into the
John Facenda
voice while typing that last line.
It'll be a little different for me this season in the broadcast booth. I'll be starting my 14th year as voice of the Redskins, and for the first time since my very first year, Jay Zumbahlen will not be on the broadcast with me. Now that his son Dane has graduated, Jay wants to spend more time with Dane and the rest of his family on Friday nights. Whatever. How dare he prioritize family over Friday nights with me. I'm kidding of course. Because we all know, there would probably be a Saturday game here and there.
Tonight's opener will take place at the school that I did my very first Morris football game, Geneva. Back then, in 1993, I was doing play-by-play along with Dick Steele for brand new WJDK. Jim Murray did the game that night with Daryk Brayton on WCSJ. Since it was my first night, I made sure I got there early. Early enough that I was the first of the four broadcasters in the press box. Early enough that Jim and Daryk had to do the game standing up off to the side because they only had room for one station, and I, the new guy, got the prime spot.
Jim Murray will be with me tonight on the broadcast, and for several other weeks during the year. I'm looking forward to it. I think Jim is excited too. After all, he may get to sit while doing tonight's broadcast.
It's been quite a ride doing Morris football all these years. It's hard not to get spoiled by all of the wins, playoff appearances, state championship runs, and memorable nights. There have certainly been a fair share of memorable nights. And days, too.
Now, my memory is so bad these days, that I can't even remember how I started this sentence, but I thought I'd take a stab at giving you some of the more memorable Redskin games that I've broadcast over the years...
2005 Morris 28, Joliet Catholic 21
- I've never had a broadcasting night quite like that one. The crowd was amazing. The game unbelievably exceeded the hype. John Dergo went from one of the Morris Redskins' best players ever, to a folk hero for the town of Morris, and a legend to generations of Morris fans for many years to come.
1999 Joliet Catholic 16, Morris 14
- My first Morris/JCA game. Everyone remembers the field goal kick that came up a little wide and short, but the sweep that was snuffed out for about a six-yard loss helped seal Morris' fate just seconds earlier. A great game, and a rivalry was born.
1996 Minooka 29, Morris 28
- Dan Sharp, then coach at Minooka, decided to go for two after the touchdown that had pulled Minooka to within one in overtime. What a gutsy move, and in the playoffs no less. The Indians scored on the conversion, and all was well on Wabena.
1995 Morris 64, Westmont 0
- A real stinker of a game, from an announcer's point of view. And this was before the days of the running clock. What made it so bad was, Westmont did not have any room inside for a radio station. The "press box" was basically the size of a phone booth, and with less amenities. Jay and I did the game from the top of the bleachers, on a cold and windy October afternoon. By halftime, my nose was running like a faucet, I couldn't keep my papers still, and we were both pretty miserable.
Jay pulled his truck up near the sideline, and after we ran extension cord to the concession stand, we did the second half from Jay's truck. Only problem, by sitting in the truck, we were at field level -- kinda difficult to see thru the players who were lined up on the sideline.
So, I did the play-by-play standing on the step of the passenger side with one arm on the mic, and the other arm holding onto the roof so I wouldn't lose my balance. The angle gave us no depth perception either. I Couldn't tell if a run up the middle went for 1-yard, or 21-yards. Fun times.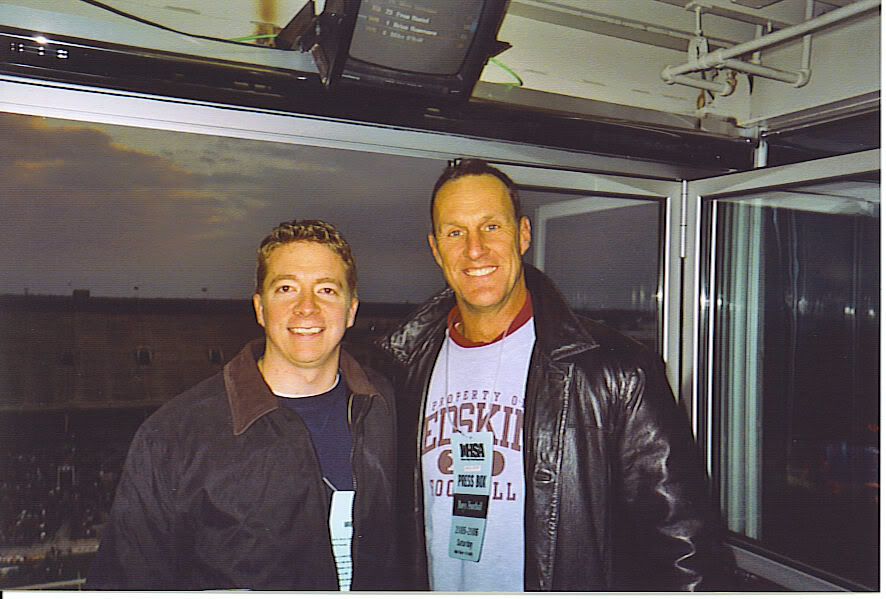 2003 Morris 17, Minooka 14
- This was cornfest Saturday. The night before, lightning forced the postponement of the game until the next day. Morris rallied late and a last second field goal won the game. One of the rare home day-games that Morris has had since I've been doing the broadcasts.
2001 Joliet Catholic 27, Morris 20
- The Redskins had four cracks at the tying score from the 10-yard line, and couldn't score. Morris would have gone for two had they punched it in.
2005 Morris 33, Crystal Lake South 13
- Memorable for being Westmont-esque, only much colder and windier. Jay and I were on top of the press box, and I think I set a record for most layers of clothing for a human being that night. By the 4th quarter, I tried to scarf down a few hotdogs real fast -- just for the heartburn! But seriously, it was very cold, but the Redskins stayed hot, won the game, advancing to the state championship...
2005 Morris 14, Normal Community 9
- Did anyone think Morris was going to lose this game? Were they worn out? Sure, probably emotionally more than physically. But the letdown game would have been the previous week at CLS. It took Morris awhile to get going, but they did, and this turned out to be a pretty tight game. But no matter how close the game was, or how well played, a state championship is always memorable.
Congrats again Morris for the title, and for giving me, and many others, so many wonderful memories.
Well, I'm sure I've left off some real classics...the playoff battles at Kankakee, the 2003 JCA game, the Glenbard South game when Dan Darlington got tossed, some classic opening week clashes with Pontiac. Feel free to add some of your memories in the comments section.
I'm looking forward to going to the place Friday night where all of this started for me back in 1993, Geneva, to start taking in the 2006 memories.
I think I'll get there early.